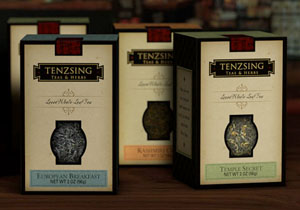 About 8 years ago I had the pleasure of naming a startup tea brand and designing their logo and packaging – while under the employ of Redmond's illustrious Papugai Creative. Those were good days for a young designer.
Unfortunately, the investors behind the tea project decided, at the last minute, to buy an existing tea company outright instead of creating one from scratch. So they took on the existing company's identity and packaging, went on to great success, and all my work went to the wayside.
After all this time it's still one of my favorite design pieces. I was bummed that it never came to life – mostly because that means I would never get one of my favorite things out of the deal: Portfolio photos!
Well, I've been playing with some fantastic 3D modeling/animating software and it's changing everything. Photo-realistic digital comps are now a possibility. This is great. Lots of fun and super useful.
Both the white-background, "studio" shot and the "in store" image are digital comps made entirely with 3D software.