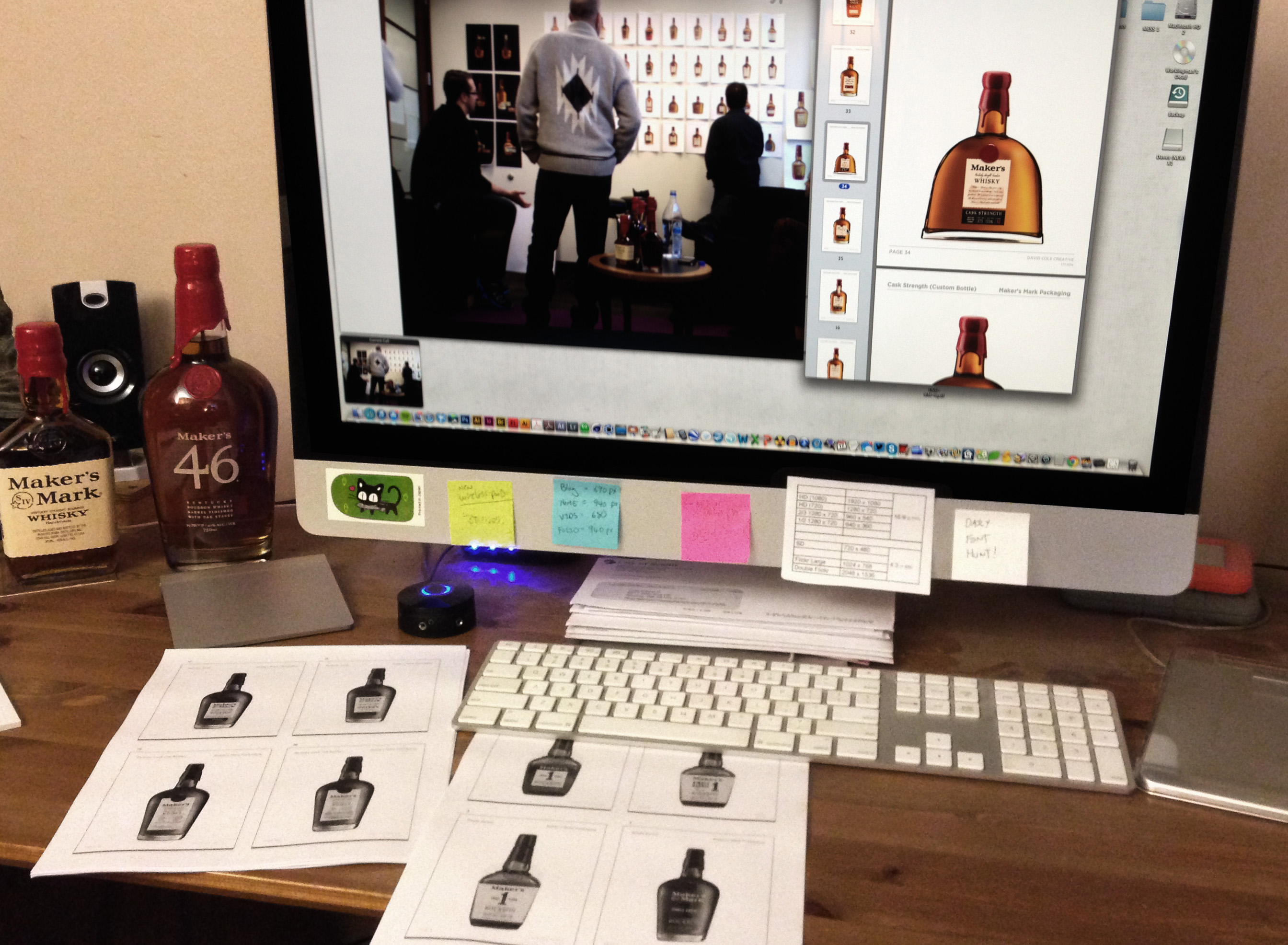 Here's another one of those emails that I find myself sending fairly often: A response to the question "What's your process like?" So I'm thinking this is worth sharing with a wider audience. It's just a quick "sketch" of how things might work. Of course, each new project brings refreshing and interesting new challenges, requirements and opportunities. So we might deviate from the plan. But this is pretty typical. Here's the letter, copied and pasted directly out of my outbox from an e-mail to a real person, in this case, a distiller:
I'd love to give you a picture of the process. I'd be happy to talk on the phone anytime, it's a little easier to describe verbally. But to give you a rough idea, it goes something like this:

• First I'll learn as much as I can about the nuts and bolts: Your bottling line, future plans, filling and labeling capabilities, shipping, budget and merchandising specifics – so that everything we do is affordable, functional and sensible to your realities.

• Then we chat about your story. What's unique about your products, location, point of view, goals and audience. Anything that gives you a unique angle, or known failures/successes in the past.

• After getting to know the specifics of the scope of work, I'll write up a quick summary of the scope/deliverables. At the same time, I'll give you a quote. We will discuss and when we're on the same page and approved to proceed, I'll ask for a 50% payment up front. After the work is done and delivered I'll bill you for the balance. It gives you a nice little "out" in case things go awry somewhere along the way (that's never happened). I very rarely have a need to increase budgets along the way, and it's never a surprise. Usually only if you add in some new sub-projects like a new product, a 375ml version, coasters, Tee shirts, whatever. Otherwise, I'll stick to my quotes – no nasty surprises.

• Next: Figuring out what you want your products to do for you is the heart of the creative process. If you're just starting up or want to change directions completely, I'll come up with some viable options for you, all different ways of accomplishing your goals. For example, you might want to infuse your brand with a more "premium" feel (just to pick one possible example)… but should it be modern premium, vintage premium, down-home-premium, Las-Vegas premium? This would be a discussion I'd bring back to you after researching and thinking about it, usually with some visual inspiration assembled in groups so we have some things to look at and talk about. Then we pick a direction and start talking about specific ways to bring this idea to life for you. On the other hand, if you're NOT looking for a radical change (maybe just a light refresh), the conversation would start out much more focused right from the beginning and we might jump right into details and specifics.

• After that, I'll show you some original work and we keep in communication as it's refined to perfection. I do some magic, send it your way – we talk, refine, edit, revise and execute until we love the results. We'll work together and you'll have many opportunities along the way to add your insights and input into the process.

• Along the way, I can help you with sourcing new bottles, label printers, corks and all that. I have tons of relationships with regard to those things and always happy to hook you up with people, share new ideas, get prices for things, etc.

That's the overview. Let me know if you'd like to chat or if there are any questions unanswered. I'm always happy to talk on the phone or address anything specific that isn't covered here.