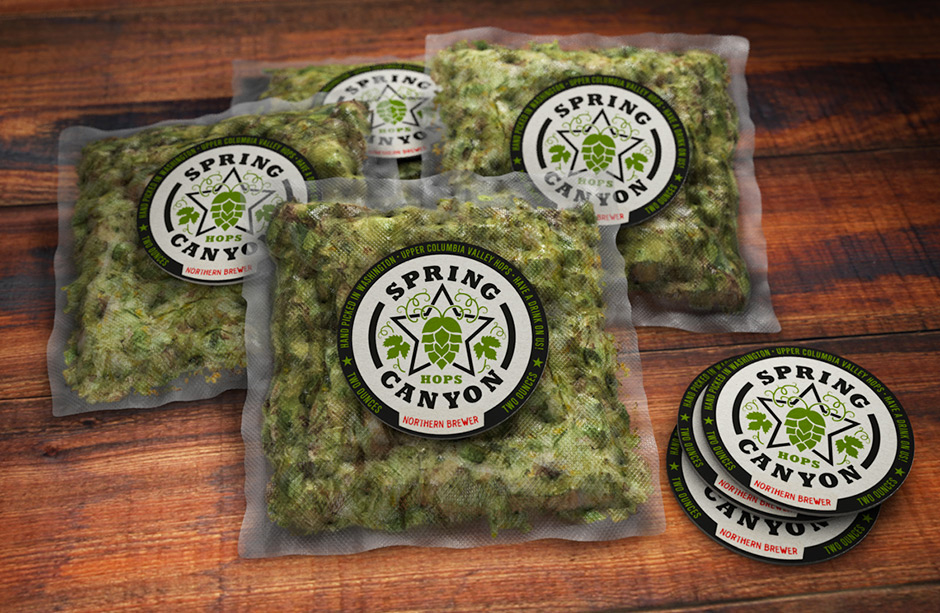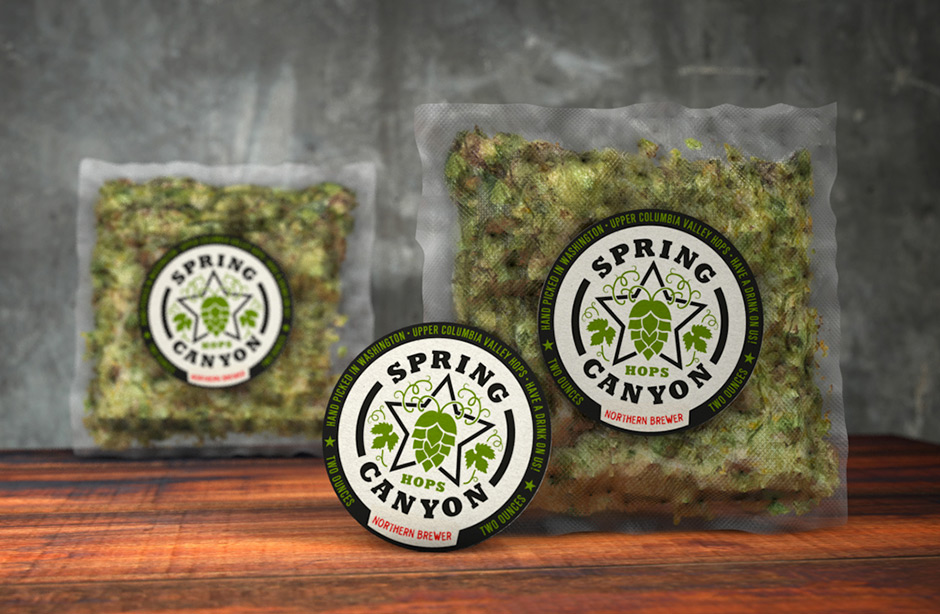 How do you differentiate a small, local hops producer from all the others? For a company who's primary market is with home brewers, that means standing out from the competition in one particular place: In that old refrigerator, in the back corner of the home-brew shop. So we took a little trip down to the local home-brew shop, Bob's HomeBrew Supply. I haven't brewed a batch myself in quite a few years, so I thought I'd better get reacquainted with the other hops available, and how they are presenting themselves.
I found two things:
1. Wrinkly, ugly, frozen-plasma-like packets of pelletized hops. Actually they look more like freeze-dried rabbit food than anything else. The labeling was very low budget, low effort, low style. Small, white no-nonsense labels, printed on a black and white laser printer, with the name and net weight in whatever font happened to default. Certainly cost effective, but you couldn't tell one brand from another. Very much a commodity approach.
2. Overwrought, mirror-glossy, mylar packaging with full-color graphics, edge to edge. These just screamed "BUY ME" in a desperate tone, and smelled of big budget agribusiness. These products looked like they'd be more at home somewhere between the macro-brew soda cans and the candy aisle.
There was a glaring hole in the market: A well-crafted, well-designed, quality, humble, local product that you would actually WANT in your home brew. Perfect. Because that's exactly what Spring Canyon Hops is.
Next we had to contend with the how to affix a label to this very irregularly shaped packed. The lumps and bumps of the vacuum packed bag would not receive a typical label very well. It would either fall off due to lack of adhesion surface, or – if you stuck it down with all your might – it would become so lumpy itself that it would be unattractive and difficult to read. We started to discuss using a heavy label stock – even a very thick paper board – something rigid enough to hold it's shape over all those lumps and bumps. And it was that line of thinking that lead us to the winner: A fully usable, blotter paper coaster glued to the front of the bag.
What better way to entice known beer drinkers to choose one otherwise indistinguishable bag of hops from another than with a freebie: A well designed, branded coaster. The coaster will not only create a more enticing product at the point of sale, it will continue to give brand exposure in the home of the buyer, long after the purchase. And to take advantage of economies of scale, a large order of coasters will ensure ample promotional materials for pubs and other drinking venues.
The packaging system was finished off with a rubber stamp for each species of hops. An elegant and cost effective way to package 15+ different varieties.